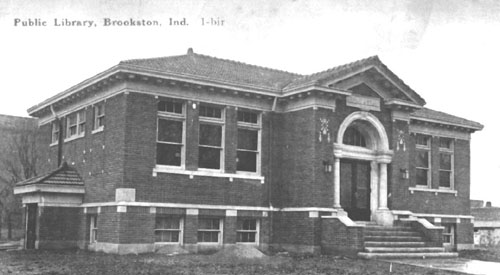 The Brookston Prairie Township Public Library was founded in 1916 when the property taxpayers of the Town of Brookston and Prairie Township agreed to tax themselves to support the library. The land was purchased in 1915 through donations and the building was constructed in 1916 through a grant from the Carnegie Corporation.
The cornerstone was laid in the fall of 1916 and the building designated a centennial building for the state centennial. The library opened October 6, 1917 with 300 books. The first librarian was Doll Hayes, receiving a salary of $30 a month. She retired in 1946.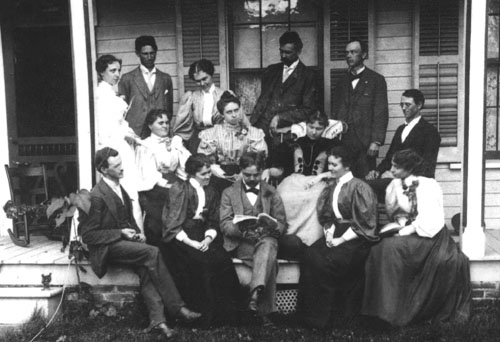 Librarians who followed Doll Hayes included Bess Wallace, Mrs. R.G. Mathew, Mary Dykhuizen, Ruth Ann Sorensen, Nancy Hartman, Kathy Gerber, Kelly Stanchfield, Tammy Jones and currently Marilyn Blessing. Assistants have included Matilda Bruss Allen, Reba House, Katherine Schnieder, Arlene Koebcke, Yvonne Lesley, Marilyn Blessing, Melba Myler and currently Jennifer Norris.
In 1980 a generous bequest from the will of Marie Boomershire Kelley was used to furnish the historical room in the basement. 1984 saw the old community room remodeled and turned into a children's room and dedicated in the name of Ruth Ann Sorensen. Due to structural problems, the entire roof was replaced in 1987, with the original tiles, as the community requested.
With over 20,000 books on the shelves, the library outgrew the original building. 1992 saw the ground breaking of a 5,426 square foot addition and the complete remodeling of the existing 3,669 square foot building. The renovated building now houses adult's, teen's, and children's reading rooms and collections, a new community room, a larger historical room, and a seminar room.